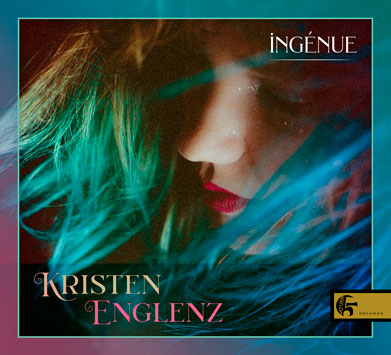 Saturn 5 Records announces the release of the Americana album "ingénue" by Nashville singer-songwriter Kristen Englenz. The album drops on all platforms February 28, 2020.
Three-time Grammy nominee and former Wilco drummer Ken Coomer produced the full-length debut album recorded at Cartoon Moon Studios in Nashville.
The nine-song collection floats through a mosaic of genres while embracing each in an Americana vibe. The tongue-in-cheek wittiness of folk-pop "Got Me With Goodbye," the electrified bluesy rocker "Rebound," and the Tom Waits-like ballad "Oh, Evenin' Star," each accompanies Englenz on her journey to unravel the complexity of modern life. Her Dylanesque gospel-like "Pray for Rain" features the five-time Grammy-winning Blind Boys of Alabama.
Throughout, there is a feel of uncertain innocence which Coomer's artful production teases out of Englenz's subtle Southern twang. It is an album best heard in its entirety. Coomer's intuitive drumming supports the narrative in each track from the soft jazzy feel of "Georgia Peach" to the rock and roll beat of "Yeah, Yeah, Yeah" to the defiant snare in "Rebound." Nashville's finest session musicians, Ted Pecchio, Jason "Slim" Gambill, Robbie Crowell, and Joe Garcia, provide inspired musical interpretations song-to-song.
"Globe in My Room," the evocative final track of ingénue features Englenz performing bird calls. Englenz attributes her melodies as partly inspired by the natural world, which she combines with her interest in environmental activism in her popular web series "Caterwauling with Kristen" where she mimics birdcalls and teaches about avian species.
Englenz appeared live on Paste Studio Atlanta performing three songs from the new album. She frequently plays at multiple Nashville venues including The 5 Spot, The Basement, and The Bowery Vault as well as at the famed Eddie's Attic in her hometown of Decatur, Georgia. She has opened for the Blind Boys of Alabama. Her songs have appeared on compilation albums for Amplify My Community, a nonprofit organization using music to defeat homelessness, along with those of R.E.M., Drive-By Truckers, Widespread Panic and many more.
Englenz was recently signed by Atlanta, Georgia-based indie label, Saturn 5 Records. Her tour in support of the album begins February 29, 2020, at Bowery Vault in Nashville. KristenEnglenz.com for dates, times and more information.
https://saturn5records.com/wp-content/uploads/2020/02/fb-ingenue.png
627
1200
Saturn 5 Records
https://saturn5records.com/wp-content/uploads/2019/04/saturn-five-records.png
Saturn 5 Records
2020-02-18 11:10:40
2021-06-11 16:21:05
Kristen Englenz Releases Full-length Album, "ingénue," Produced by Grammy Nominated Ken Coomer (Wilco)